This letter is begun on the steeply inclined streets of San Francisco, where I am attending a sub-section of the Pacific meeting of the American Philosophical Association; after which I shall take my criticized paper (and my whistled-out self esteem) down to Monterey and give it an airing in the polite but perspicacious scrutiny of the American Society of Aesthetics. After a second deflation of the wind in my sails I shall either re-write it, attentive to helpful advice, comments and criticisms, or chuck it in the bin and be done.
Yesterday, whilst warding off the slug-brain, slime-trail, bowling-ball-head of jetlag, I watched Arsenal connive to concoct a draw with a far superior Barcelona side in Vesuvios, on Columbus at Broadway. It is a small friendly bar across Jack Kerouac Alley from Lawrence Ferlinghetti's City Lights Bookstore. At half time there were a couple of Fox News match analysis stills – the play frozen, the players under discussion highlighted, and arrows drawn on screen of where they should be running. One such can be pushed about in PhotoShop and will be a useful slide for a Powerpoint piece on the epistemic uses of imagery – or so I hope. Commentator: 'The ball bounces off Bendtner – goal-kick.'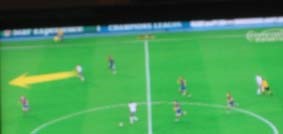 Developing software packages and online blogs offer a variety of media with which to create new forms of writing. I am beginning to get the hang of embedding sound and movie clips in Powerpoint; and this too promises to turn the presentation into a creative venture in its own right – 'social sculpture' as Joseph Beuys once had it. I remember explaining to Janey – who teaches life drawing at West Dean – that the delicate weight of Andrei Arshavin's passes and the precise timing of his runs were a form of drawing; or at least akin to it. She seemed convinced; and it gave me the encouragement to include a slide of 'The Little Russian' in a lecture at Kent on drawing. Having started to use Final Cut Pro, I shall be able illustrate these things more fully.
There is much to be said about writing in art; about writing as art; and about writing about art. Philosophy of art hovers above diagnostically; synoptically regarding the practices of which it takes heed. Criticism, by contrast, keeps the ball on the ground and moves it in and around art. There is (and there ought to be) lines of communication between the two writing practices and between these two forms of writing and art practice. 'The ball bounces off Bendtner – goal-kick.'
I wonder if Ferlinghetti is still alive; and if so, whether he tips up at readings; and if the beat poets are still ripping up the city. I remember tell of Ferlinghetti giving over his apartment to Charles Bukowski – returning next morning to find smashed bottles and glasses and a distraught woman bawling her head off on the staircase outside. The Beats were a fairly misogynistic bunch – but it's hard writing and good reading. Bob Dylan drank in Vesuvios and so did Grace Slick and the rest of Jefferson Airplane. I would like to believe that Leonard Cohen drank wine here but I haven't a shred of evidence in support of the case. As the game unfolds, with the commentary now muted, I am listening to Frank Sinatra groaning out some torch song I haven't heard before. Something similar to, but not included in, Frank Sinatra Sings For Only The Lonely, or, In The Wee Small Hours… 'Suddenly it hits you / The dreams weren't worth a dime / And no-one ever tells you / In time…' (You know: just a bit behind the beat.) And then Fabregas limps off and I can't hear what's happened. But it doesn't look good and Arshavin had to be taken off before half time and Gallas was carried off on a stretcher. And, all the while, Frank churns it out (just a bit behind the beat).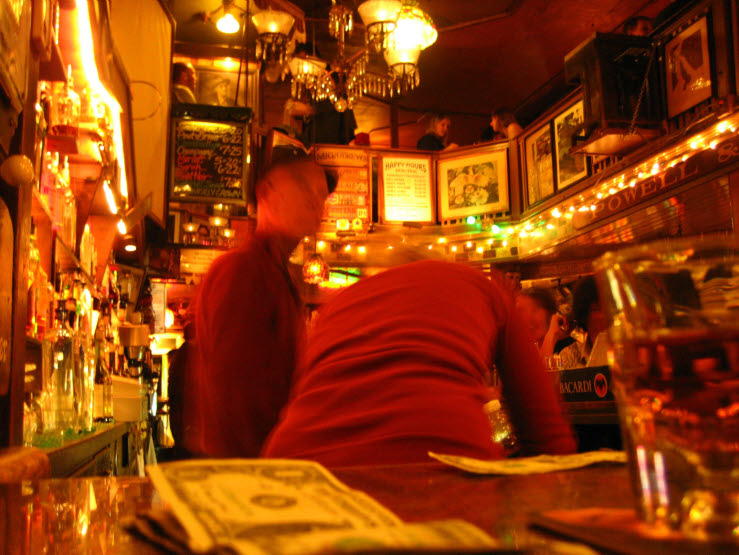 Were you to ask, I should reply that the world is spinning out of control. A card (amongst a hundred in the lobby of my hotel) advertises the Amish Museum and makes the claim that the Amish quilts are the first real American abstract art. So I played truant from a paper on 'Choosing to Believe' and went instead to the museum. The quilts are beautiful objects in their simple, plain, spare sort of way; but it does them no justice – indeed it detracts from their quietude – to make such a claim. American abstraction, with its bombastic aesthetic pronouncements, is somewhere near the beginning of the mess in which we find ourselves – as I am about to rehearse to the Society for the Philosophical Study of the Contemporary Visual Arts – or the RSPCA as Derek Matravers has dubbed it. It is Bob and Roberta Smith (real name: Patrick Brill) and his signage I have in my sights. Still. I expect I am wrong; and that I shall find out why on Friday evening at around 20:00. 'Bendtner – goal-kick.'
Being wrong about art is part of the fun. I think Danto is half-way right in claiming that art has become intrinsically theoretical. I think he is half-way wrong in thinking that this is the inevitable outcome of art's history – which, he claims, is now at an end. And so even if you get it wrong you are entering into the spirit of contemporary art – and making a shape within it. So getting it wrong can keep you going. I think the Amish quilts are beautiful in the same way that illuminated manuscripts are beautiful. There is something unassuming about them that is quite out of kilter with contemporary art. I wonder if Fabregas is out for the season. Perhaps, if I had dutifully attended 'Choosing to Believe' I might have found myself with the resources out of which to fashion the belief that Leonard Cohen had drunk wine in Vesuvios. A good argument can furnish beliefs without recourse to evidence. (Just look at what theoretical physicists get away with.) And I hear of a chap who asks his students if any of them can hold a belief at will – for instance that there is a man-size parrot standing behind them. (They are not permitted to look. They are to see if they can hold that belief at will – upon no other basis.) If someone can form that belief, at will, he offers to pay them fifty quid. As soon as one of the cheekier students claims to hold the view he gets out his fifty and makes as if to pay them. Then he says, 'Just a minute. I want to be sure that you really hold that belief. I'll bet you a hundred smackers there isn't.'
Down in Monterey we met up with Lee Brown (Bad, bad Lee Brown/The baddest man in the whole damn town). Lee is a philosopher working out of Ohio State University. He is formerly a train driver on the Chicago 'L', a barkeep, a jazzman and a repo-man. He drinks Martinis with more than a wipe of vermouth. Matravers ordered 'the same as Lee Brown' and was surprised when his Martini turned up sweet. To which Lee Brown growled in his low grumbling tone, 'I toldya there's no point in dry Martinis. Ya godda taste the vermouth, man… I toldya that two years ago in Vesuvios… I taught ya evrithin ya know… And still ya know nothin.' We met up again in Vesuvios after driving back from Monterey. Lee recalled past episodes in which someone had been, 'knee-walking, snot-flying, drunk'.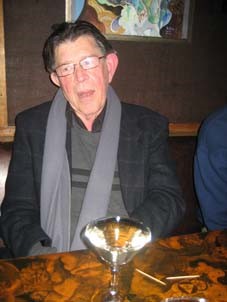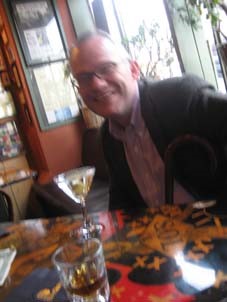 I am returned to Blighty before that unpronounceable volcano filled the sky with its mysterious dust, depriving us of Jersey Royals, exotic flowers and waxed shoe-laces, normally flown in from far flung places. And now I am on the train to Leeds to attend a one day conference at which Richard Eldridge is giving a paper entitled, 'Substances, Subjects, Emotions and the Work of Poetry'. It'll be the first time I have met him and I am much looking forward to it. We used his book as seminar material at West Dean and I am putting it into the new reading list at University of Kent. I am sure, from reading his work, that he is a decent sort. 'And it's Bendtner moving into the box – (pause) – goal-kick.'
UPDATE
That wretched cloud [the 2010 eruption of Eyjafjallajökullhas in Iceland] prevented Eldridge's travel from fogged-up Germany. Apparently, the pumice stone particles stop the propellers of the 747s; the pilots and the pretty stewardesses have nothing else to do but eat the onboard ready-meals and help themselves to miniatures; and so they get Podgkin's disease which makes them too fat for the plane to take off; and notoriously, the stewards have trouble with their zips. Eldridge is to be replaced by Matthew Kieran, Professor at Leeds and a neighbour in London. Well, Matthew was also on the reading list at West Dean and is on the new list at Kent; and his writing runs in little rivulets that carry the flotsam and jetsom of contemporary art along surprisingly sensible courses leading to much stronger currents that simply carry you along. But I would have liked to have heard the Eldridge paper. Oh well. Matthew is always good value; and David Owens from Sheffield University is over giving a paper on 'Pleasure and Beauty'. And Leeds is wonderful in the rain; and down a side alley I have found the Swann Street Cafe – a clapper-board joint that reminds me of the seaside; Formica topped tables and eggs & b. in a bap. Tea in chipped mugs. Splendid. The world is in great shape.
Queens Square is a delightful little Victorian garden surrounded by domestic houses given over by the city's planners to commerce. I walked past an open window in which was sat a prim and proper typist working on some legal document – far too prim and much too correct in her posture to consider truancy; and in that truancy the pursuancy of a regrettable, if experimental, afternoon with an old, fat, smelly man. Oh well. I mused upon the nature of impossible desire over a pint of Stella Artois in the Fenton – a charmingly run-down boozer near the university.
NEWSFLASH
It is but a short walk from the Fenton to the once grand university building. However, there was no-one from whom to gain information at the information desk – just a student bending over a phone making her enquiry; with a queue trailing out behind her. Quick as a flash I was into the library and apologetically asking the librarian for directions to the Humanities Research Institute. He directed me to the back of the lengthening queue for the telephone. When, eventually, I got hold of the nice lady dishing out information, I was told to go out of the building turn right under the arch past the students' union, second left, next right, then left, then right, then left again and the Institute is at number 29 Cromer Street. Accordingly, I slalomed my way there. Arriving at number 29 was a disappointment. There were lights on in the rooms of the upper floors but no answer to any of the nameless bells at the door – one of which had no button and so there was a risk of putting one's finger straight into an electric hole. It was time to give up. So I sauntered down Cromer Street and turned left, then right, finding myself suddenly on the fourth floor of a hospital; and very much confused. Did I hear a lady in a white coat say, 'Now Dr Winters, you know you shouldn't be out of bed at this time of day. Nurse will come along and wipe you down in a minute. How old you have become; and how fat; and how smelly?' At five to two I found myself back in the Fenton, successful in avoidance of the hospital bed but defeated in my quest for research aesthetics. It's as good as it gets. I'll have another pint.
I wonder if Bob and Roberta Smith might be thought of as a colourist. He's not bad at picking combinations. But then why the writing? And what good is the colour? It surely can't be just pretty colours – can it? The prettification of Conceptualism – 'Decorative Conceptualism' as I refer to it in my paper. Anyway, it's good to end on a note of optimism. And so my paper ends with an encouragement to the artist to return her gaze to the visual. However, Bob and Roberta Smith's nice colours will only put us back where the Conceptualists get so cross. I wonder if Fabregas will join Barcelona in the summer; and if Leonard Cohen ever drank wine in Vesuvios. I leave you with this one of Derek taking a beer in Li Po's – in San Fran's Chinatown; and another of him taking a Martini in Aub Zam Zam, up on Haight Street. And a retired miner in a pub in Leeds asked me to explain Surrealism. Where to begin? So I took a deep breath and ordered a couple of large Makers Marks, no water, no ice; and nodded one in the direction of the miner. Some days belong to the devil.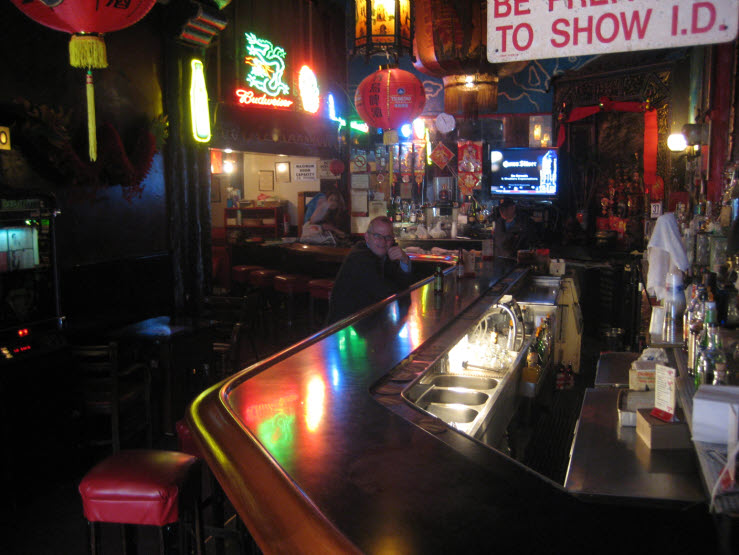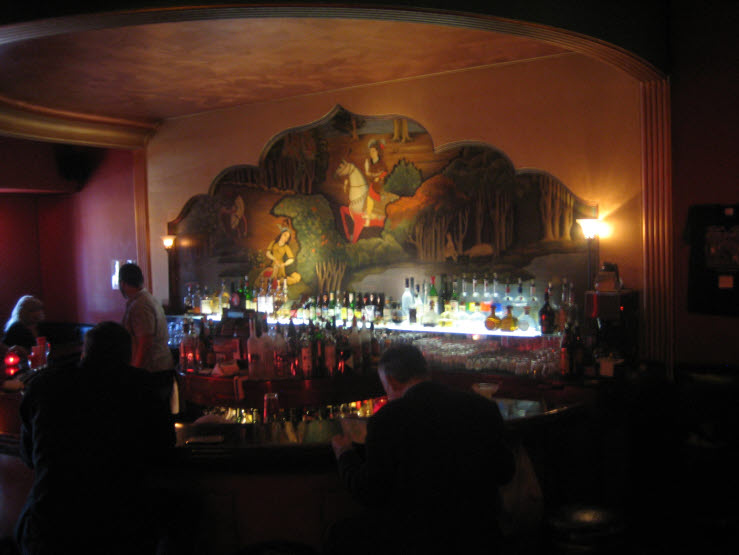 Wish you were here, etc., etc.
Ed
I am sorry to say that dear Lee Brown is no longer with us. He is much missed.